The backhoe loader is a multifunctional road machine that integrates the functions of loader and excavator. In addition, it can achieve different functions, such as crushing, drilling, snow removal, and cleaning by replacing different backhoe loader attachments.
Two models as options
Famous brand hydraulic parts
High cost performance


Backhoe loader is a single unit consisting of three pieces of construction equipment. A backhoe loader includes a tractor, a loader and an excavator. Each device is designed for a specific type of work. On a typical construction site, the operator often needs to use all three components to get the job done. Backhoe loaders provide exceptional capabilities of digging, trenching, backfilling and material handling. It can be used in many construction applications including but not limited to general construction, demolition and excavation, landscaping, breaking asphalt and paving. The multifunctional machine is often used in municipal emergency rescue, urban pipelines, highways and other backhoe loader work areas to provide customers with comprehensive solutions.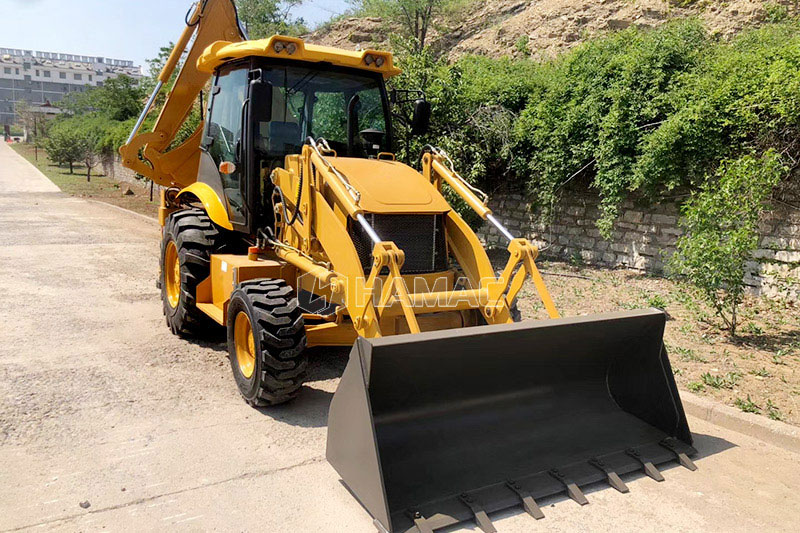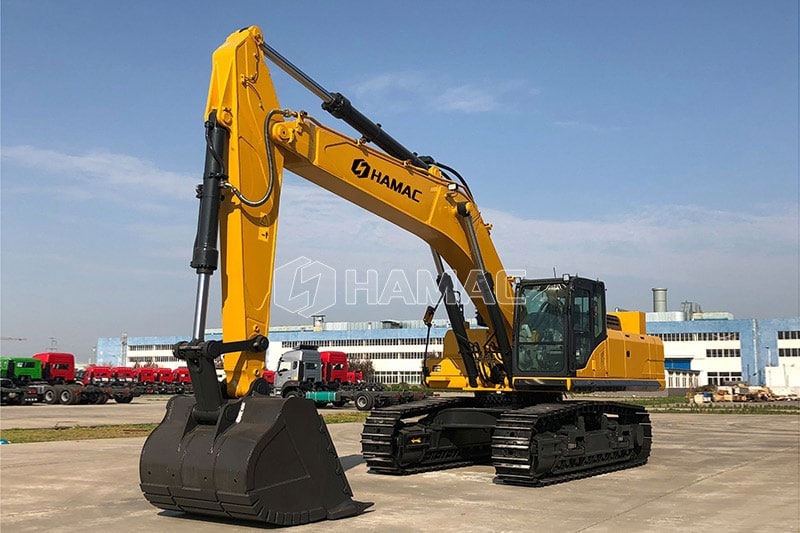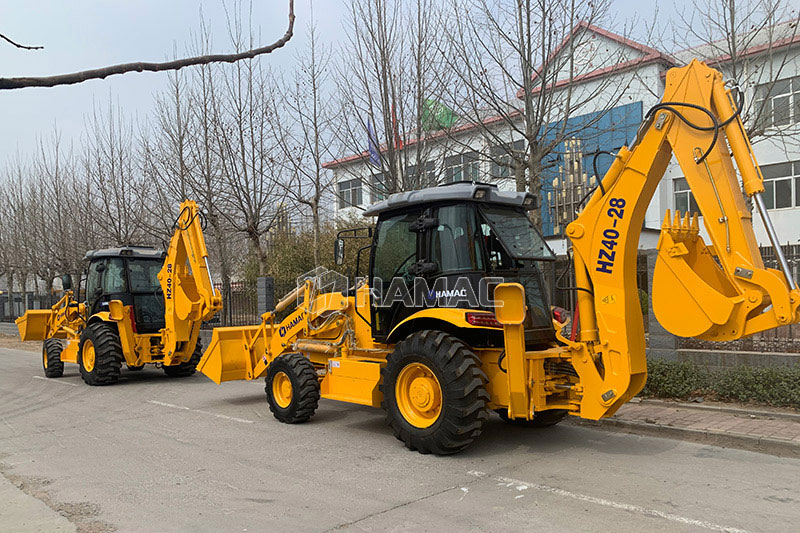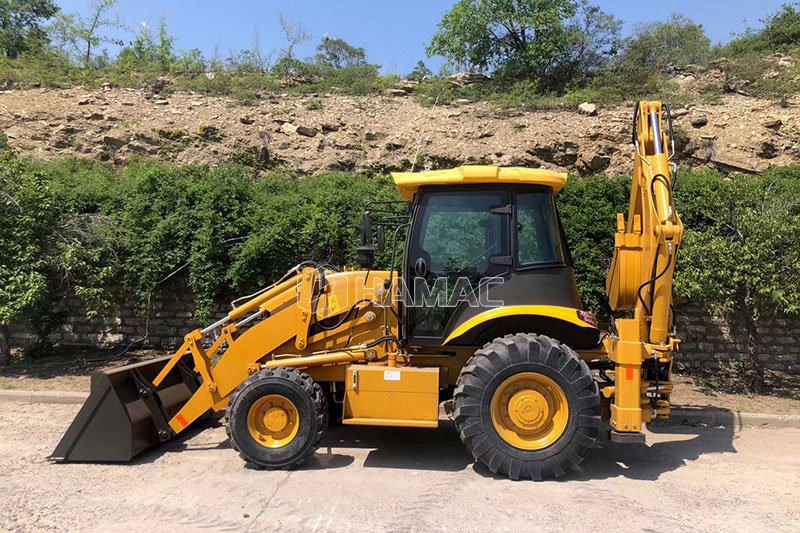 What Are Excellent Performance of Backhoe Loader For Sale in HAMAC
The backhoe loader is mainly composed of auxiliary mechanisms such as an engine, a transmission, a drive axle, a hydraulic system, an electronic control system, and a working device.
Most of the engines are turbocharged diesel engines with high power, energy saving and fuel saving.
The transmission device mostly adopts a hydraulic shift transmission with a reversing device, which can realize the drive reversing in the forward direction.
The drive axle is equipped with a braking mechanism, which has two modes: vacuum assisted wet braking and full hydraulic wet braking.
The hydraulic system can adopt quantitative and variable systems. The calorific value of the variable system is lower than that of the quantitative system, which has obvious advantages, but it is more expensive than the quantitative system, and has higher requirements for the cleanliness of the hydraulic oil.
Applying a load-sensing variable system allows for lighter and more fuel-efficient operation. The electrical system adopts a waterproof and dustproof design, using high-strength wires and electrical plugs with strong sealing performance.


Technical Parameters of Backhoe Loader For Sale in HAMAC
Overall Operating Weight
8200KG
Final Reducer
Single Stage Final Reducer
Transport Dimension
Rated Loader of Axle
8/18.5t
L*W*H (mm)
5920×2250×3770
Transmission System
Wheel base
2200mm
Torque Converter
Min. Ground Clearance
300mm
Model
YJ280
Bucket Capacity
1.0m3
Type
Single-stage Three Elements
Breakout Force
38KN
Max. Efficiency
84.4%
Loading Lifting Capacity
2500KG
Inlet Pressure
0.5Mpa
Bucket Dumping Height
2742mm
Outlet Pressure
1.1Mpa—1.3 Mpa
Bucket Dumping Distance
925mm
Cooling Method
Oil-cooling Pressure Circulation
Digging Depth
52mm
Gearbox
Backhoe Capacity
0.3 m3
Type
Fixed Shaft Power Transmission
Max. Digging Depth
4082/4500mm
Oil Pressure of Clutch
1373Kpa—1569 Kpa
Swing Angle of Excavator Grab
190
Gears
Two Gears Ahead, Two Gears Astern
Max. Pulling Force
39KN
Max.Speed
28Km/h
Engine
Tyre
Model
YC4A105Z-T20
Model
14-17.5/19.5L-24
Type
In Line Direct injection Four-Stroke and Injection Combustion Chamber
Pressure of Front wheel
0.55Mpa
Cylinder-Inside Diameter*Stroke
4-102×120
Pressure of Back Wheel
0.223Mpa
Rated Power
75KW
Brake System
Rated Speed
2200r/min
Service Brake
Air Over Oil Caliper Brake
Min. Fuel Consumption
≤242g/km.h
External Type
Max.Torque
≥410N.M
Self-regulation
Displacement
4.4L
Self-balance
Steering System
Emergency Brake
Operation Power Implementing brake
Model of Steering Device
BZZ5-250
Manual Operation Power Terminating Brake
Steering Angle
±36 o
Hydraulic System
Min. turning radius
6581mm
Digging Power of Excavator Grab
46.5KN
Pressure of the system
12Mpa
Digging Power of Dipper
31KN
Axle
Bucket Lifting Time
6.8S
Main Transmission Type
Double Reduction
Bucket Lowering Time
3.1S
Bucket Discharge Time
2.0S
FAQ - More About Backhoe Loader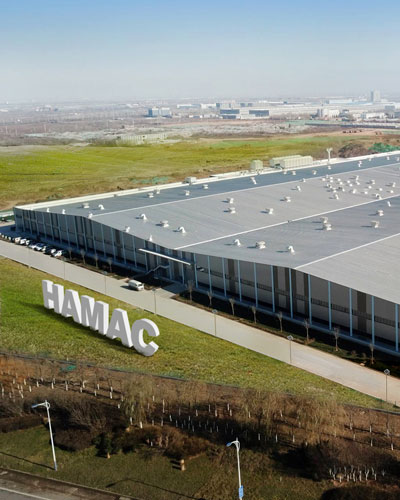 Please fill in the below information. Your information will be kept strictly confidential and will not be used for any purpose other than our business
TEL: 0086-15136236223
EMAIL: [email protected]
SKYPE: hamacchina
ADD: 57th, Kexue Avenue, National HI-TECHIndustrial Development Zone, Zhengzhou,China.