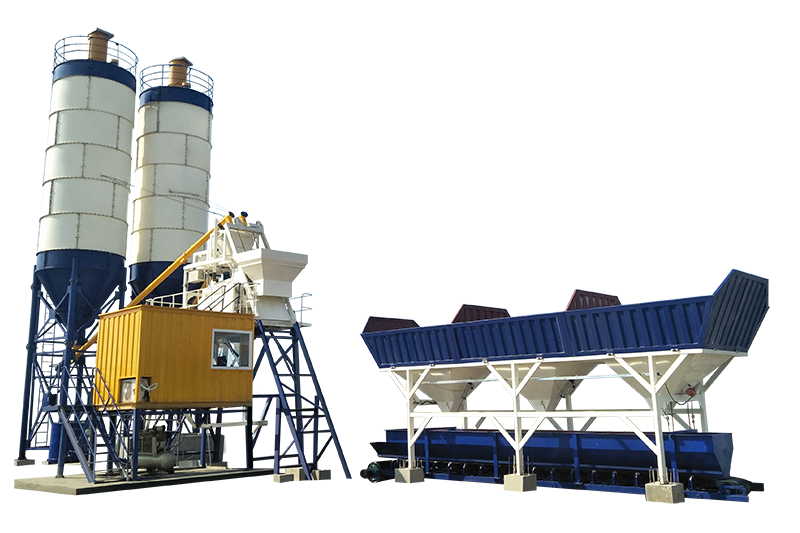 Stationary Concrete Batching Plant
Stationary concrete bacthing plant is often used in large and medium-size water conservancy, electric power, bridges and other projects with large concrete engineering volume, long construction period, and concentrated construction sites, because of its high degree of mechanization and automation, its high productivity.


What Is Stationary Concrete Batching Plant
Stationary concrete batching plant is a kind of ready mix concrete plant fixed on the foundation. It is best suited for large-scale concrete production projects that require relatively high concrete production capacity and will be carried out at the same location for a long period of time. Stationary concrete mixing plant is designed to provide high efficiency, high capacity, high output and reliability of work.Stationary concrete batching plants for sale in Hamac include various models, which can provide different production capacities. Compared to other types of concrete batching plant, the stationary type with the highest efficiency and production capacity is usually the first choice for large-scale projects that require high performance.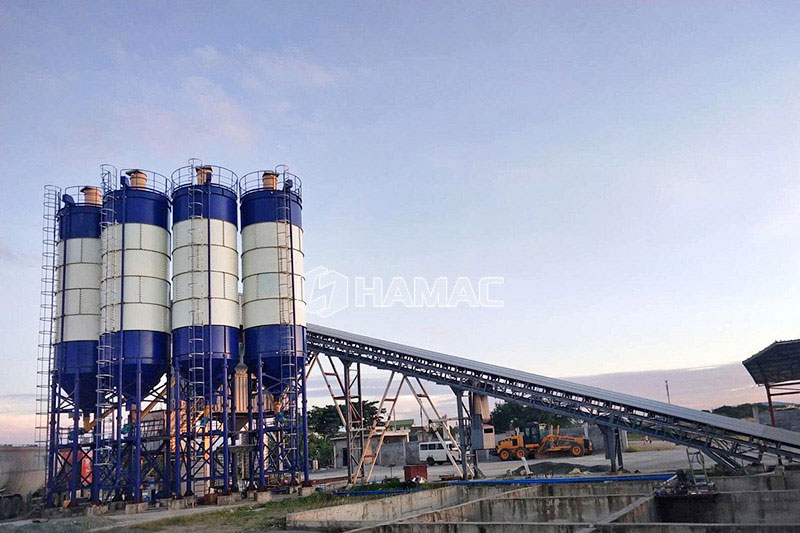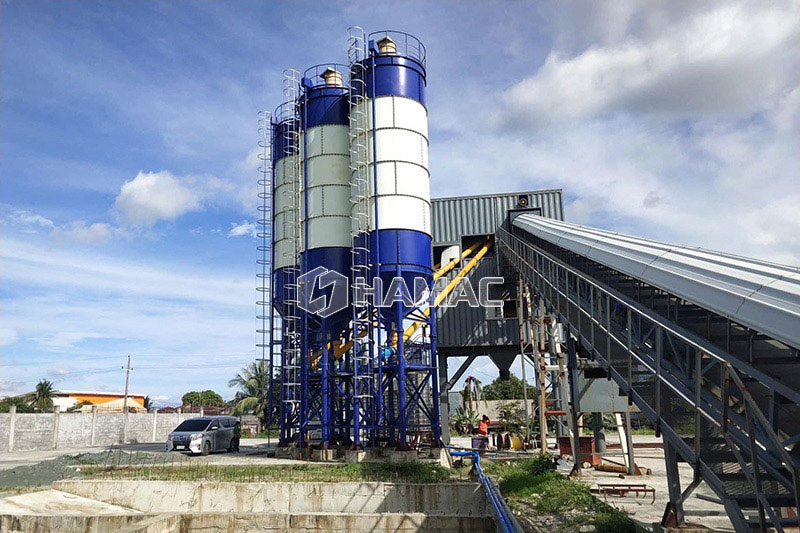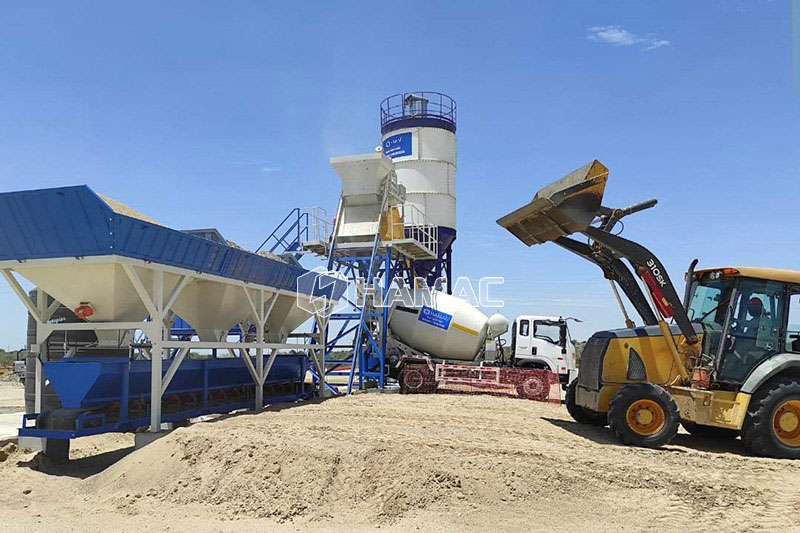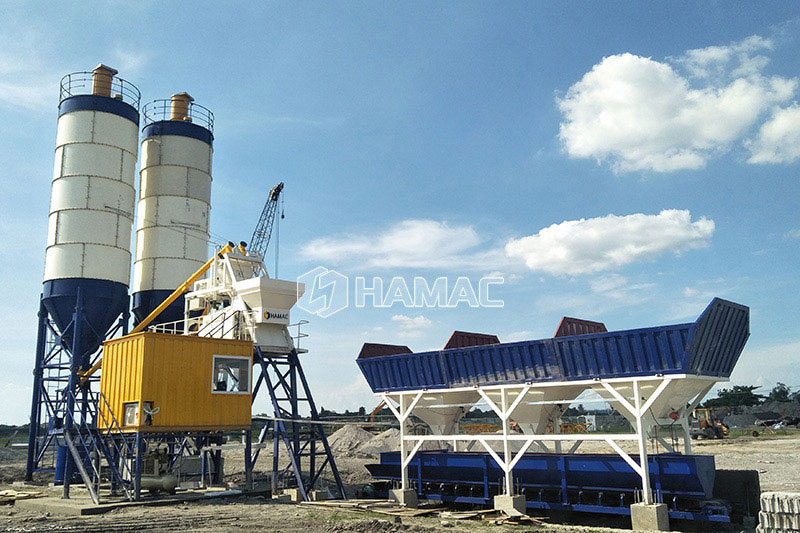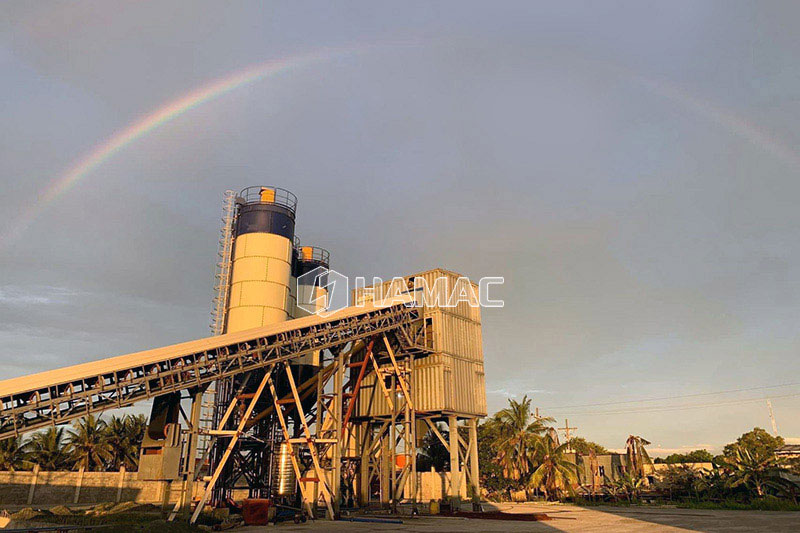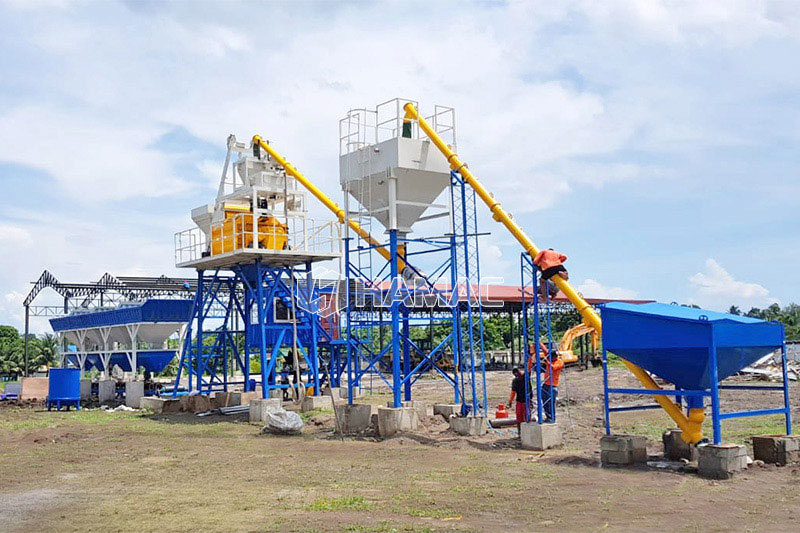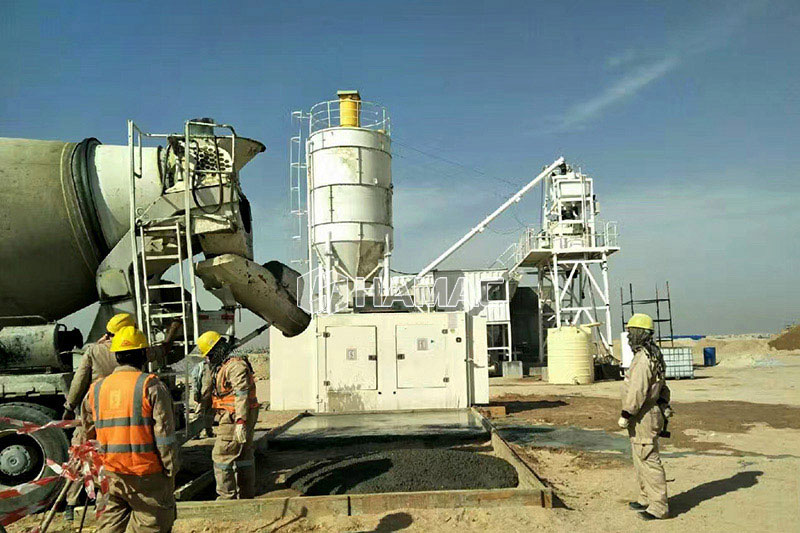 Overall Layout of The Two Typical Concrete Batch Plants For Sale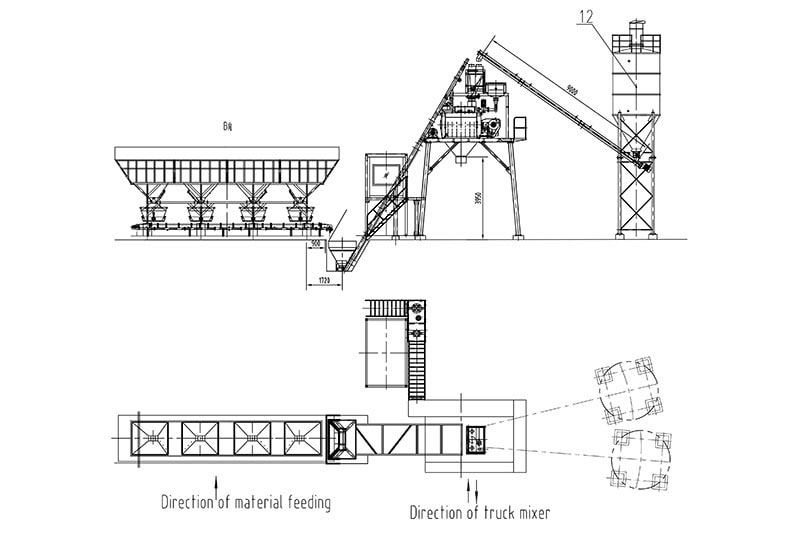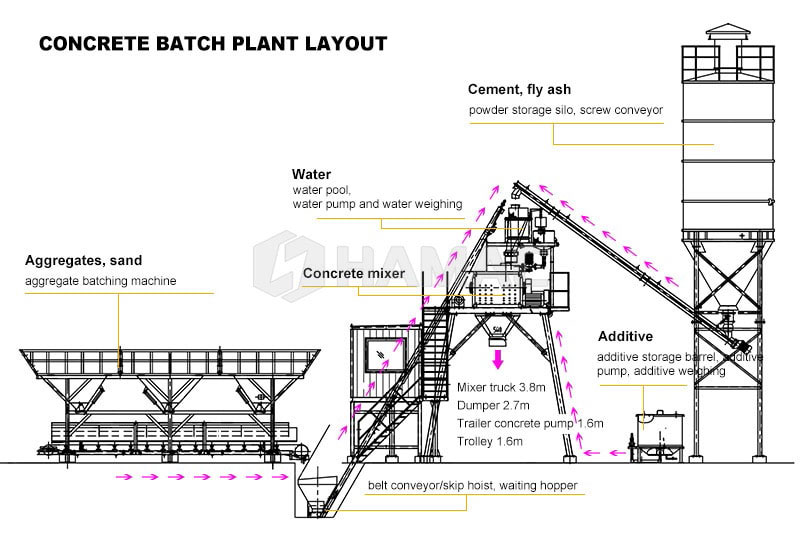 What Are Advantages of Stationary Concrete Mixing Plant
Most stationary concrete mixing plants are modular in design, compact in structure and easy to install.
High configuration flexibility. It can be designed in a variety of ways to adapt to the placement schemes of different installation areas, and can fully meet the configuration options of different needs of users.
High production capacity and high performance. The concrete production capacity can range from 30m3/h to 200m3/h with a single mixer and up to 400m3/h with double mixers.
Durable. Sturdy structure, safe transportation, can guarantee long working life.
Maintenance is convenient and quick. The large maintenance platform allows easy and safe access to the main components and weighing scales of the mixer for maintenance.
The stationary mixing plant is generally designed as a wet type, but can also be made into a dry type and a wet and dry type.
Strong ability to resist the environment. By adding the special equipment required to work in winter conditions, it is possible to produce concrete even at -30 °C.
Easy to transport. Stationary concrete plants are also designed for container shipping.
Computer control, easy operation, stable working performance, closed space operation, equipment environmental protection.

Models of Stationary Concrete Batch Plant For Sale in HAMAC
Technical data
Model
HZS60
HZN60
HZS90
HZN90
HZS120
HZS180(150)
HZS240(200)
Theoretical capacity(m³/h)
60
60
90
90
120
180(150)
240(200)
Mixer model
JS1000
MP1000
JS1500
MP1500
JS2000
JS3000
JS4000
Batching system
PLD1600
PLD1800
PLD2400
PLD2400
PLD3200
PLD4800
PLD6400
Discharging height (mm)
4100
4840
4100
4100
4100
4100
4100
Maximum aggregates size(mm)
60(80)
60(80)
60(80)
60(80)
60(80)
60(80)
60(80)
automatic Cycle time(s)
60
60
60
60
60
60(72)
60(72)
Weighing Precision of Aggregate
±2%
±2%
±2%
±2%
±2%
±2%
±2%
Weighing Precision of Cement
±1%
±1%
±1%
±1%
±1%
±1%
±1%
Weighing Precision of Water
±1%
±1%
±1%
±1%
±1%
±1%
±1%
Weighing Precision of Additive
±1%
±1%
±1%
±1%
±1%
±1%
±1%
Total power(KW)
106
114
145
145
175
215
295

How Do Stationary Concrete Batching Plants Work
Stationary concrete batching plants are mainly composed of mixing console, material weighing system, material conveying system, material storage system, control system and other ancillary facilities.
The main principle of its work is to use cement as the cementing material, and fly ash, cement, large sand, some powder, as well as fine materials to be measured and weighed in proportion through the batching machine.
After the weighing is completed, the operator starts the sand and stone belt motor to send the weighed ingredients to the weighing hopper.
Then add the additives and water and stir in the mixer.
After achieving the desired mixing effect, the ingredients are fed into the open concrete tank truck and conveyed out.
The stationary RMC concrete plant uses a control system to control the whole work of the machine. Computer-aided controls are employed to aid in the quick and accurate measurement of input ingredients.

What Are Components of Stationary Concrete Mixing Plant

Aggregate batching equipment. According to the formula entered into the software system, the weight of aggregates and sand of different specifications is weighed, and then the materials are sent to the concrete mixer. Aggregate weighing and discharging is controlled by the control system to ensure accuracy. The microcomputer can automatically alarm if the tare weight is overweight, and the tare weight will automatically return to zero when the tare weight is weighed again.

Aggregate lifting system – belt conveyor or lifting hopper. After the sand and gravel are measured by the aggregate batching machine, the aggregate bin is loaded with a lifting hopper or a belt conveyor and transported to the mixer.

Central concrete mixer. It is the equipment for producing concrete, which can fully mix raw materials such as cement, sand, stones and water admixtures. Mainly composed of motor, reducer, mixing tank and discharging mechanism. The stationary concrete batching plants for sale in our company are mainly equipped with twin-shaft concrete mixers.

Cement Silo. The equipment is used to store cement and fly ash. The cement silo is equipped with upper and lower material positions. The powder is blown in from the upper part of the powder silo, and the top of the powder silo is equipped with a dust removal device, which can reduce the load pressure of the powder silo and prevents the dust from polluting the air.

Cement, water, admixture weighing system. The weighing sensors are respectively installed on the weighing buckets of different materials.

Main building support, consisting of ladders, platforms, guardrails, steel brackets, etc.

Admixture supply system. Some projects need to add water-reducing agent and other admixtures to the concrete to produce water-reducing concrete and accelerate the setting of concrete. So there is a system for supplying additives.

Water supply system. The water pump delivers the water from the ground to the weighing bucket above the concrete mixer.

Pneumatic system. Equipped with an air compressor to provide air sources for the opening and closing of cylinders and butterfly valves.

Electrical cabinet and software control system. Just enter the formula into the system, and all programs can run automatically.

Dust removal system. It is composed of dust collector, dust removal pipe, etc. There is a dust removal device inside the main building. The dust generated in the main machine, temporary storage hopper, and powder metering hopper is filtered through the dust collector through the cloth bag, and the vibrator shakes the dust off every once in a while.

Screw conveyor. The cement transportation adopts a fully sealed device, and the discharge port and the metering hopper adopt a soft connection without affecting the metering accuracy.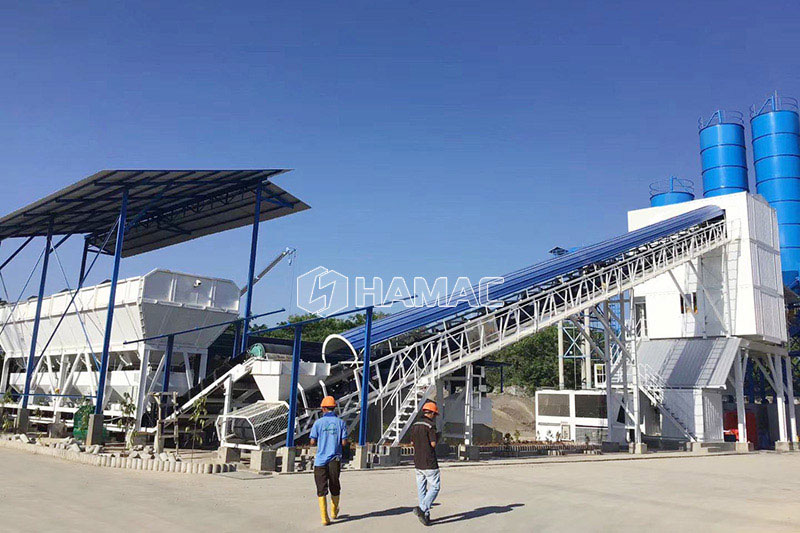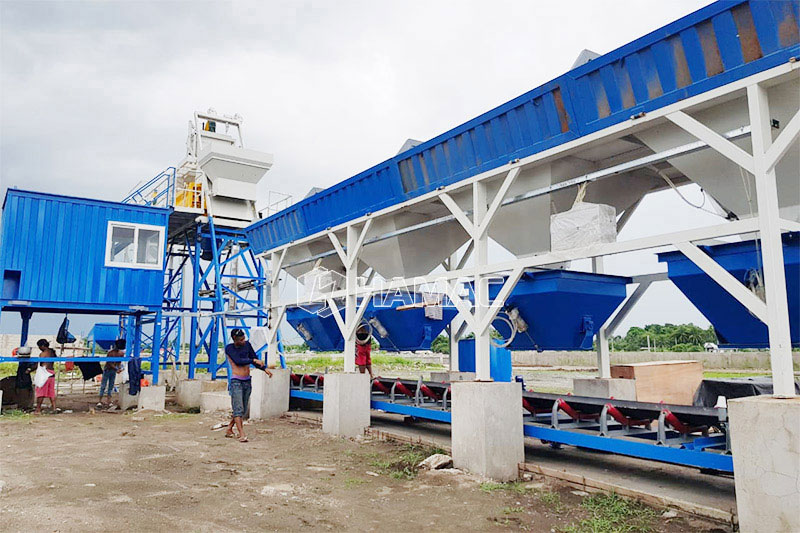 What Are Types of Stationary Concrete Batching Plant
According to the conveying method of aggregate, there are generally two types of stationary concrete batching plant, one is belt conveyor type stationary concrete batching plant, and the other is hopper type stationary concrete batching plant. Meanwhile, it can also divided into wet type and dry type stationary concrete batching plant according to the type of concrete produced.
Features of Belt Type Stationary Concrete Batching Plant
The weighed aggregate is transported to the transition hopper by the belt conveyor. The design is more complicated than that of the hopper, but the feeding and conveying efficiency is high, the large-scale operation requirements can be quickly completed, and the production efficiency can be increased by more than 20%.
With the characteristics of short feeding cycle, large capacity, flexible configuration and high production performance, belt type stationary concrete batching plant is suitable for commercial concrete mixing stand.
Features of Skip Hoist Type Stationary Concrete Batch Plant
Skip hoist type stationary concrete batch plant is a kind of concrete mixing plant that lifts aggregates by the method of hoppers. It has the advantages of small footprint, suitable for use in narrow places with limited space, simple structure, short installation time, and convenient relocation. Meanwhile, the price of skip hoist type of relatively cheap, it is generally regarded as a small ready mix concrete plant.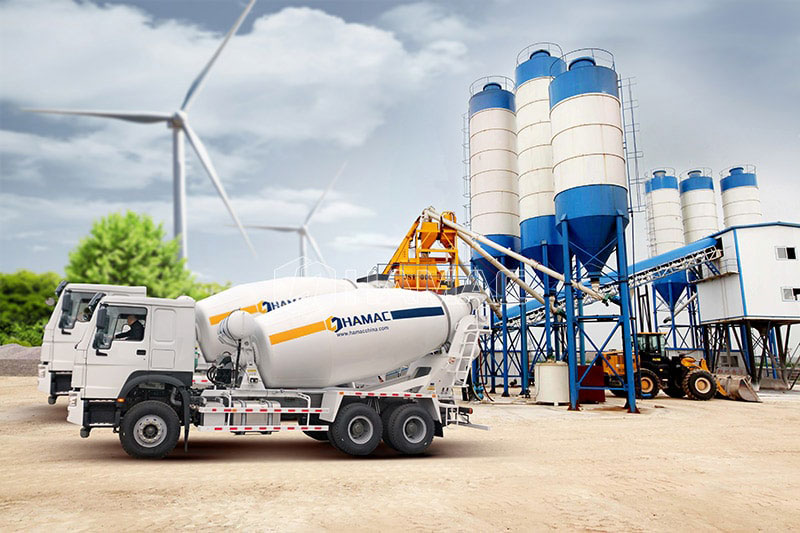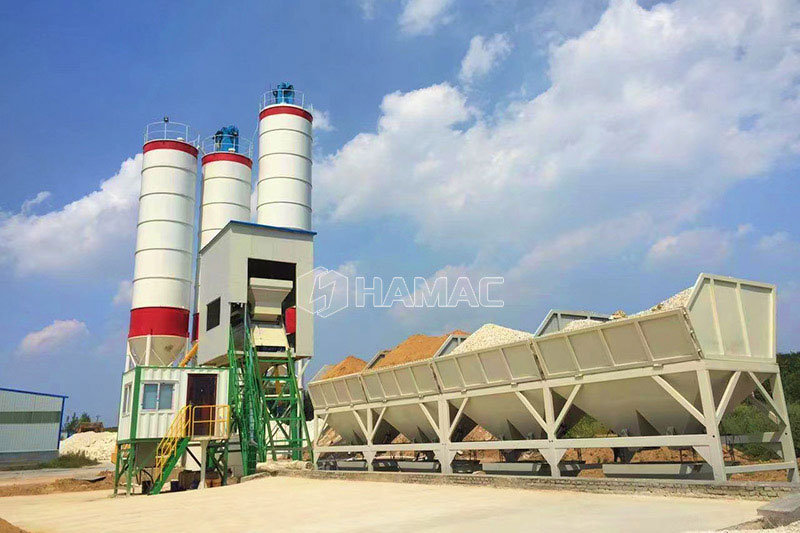 What kind of construction site can a fixed concrete mixing plant be used for?
With the advantages of mass production, high performance and high flexibility, stationary concrete batching plants are often preferred by ready-mix concrete producers who produce concrete, sell them to other concrete users and construction companies.
Stationary concrete equipment is mostly preferred in construction projects that require high-quality concrete production, such as the construction of roads, dams, airports, etc.
In addition, stationary concrete mixing plants are used in applications that require special concrete production, such as cylindrical compacted concrete, concrete parquet, concrete pipes, precast element production, hollow concrete floor slab production, etc.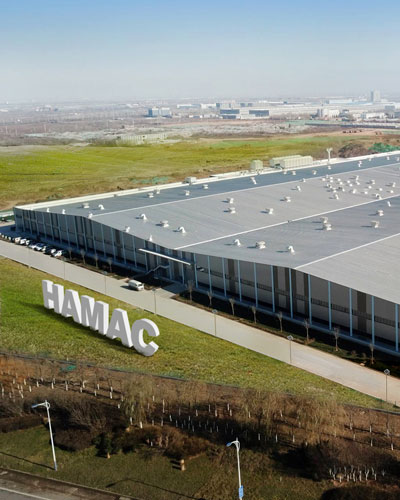 Please fill in the below information. Your information will be kept strictly confidential and will not be used for any purpose other than our business
TEL: 0086-15136236223
EMAIL: [email protected]
SKYPE: hamacchina
ADD: 57th, Kexue Avenue, National HI-TECH Industrial Development Zone, Zhengzhou,China.