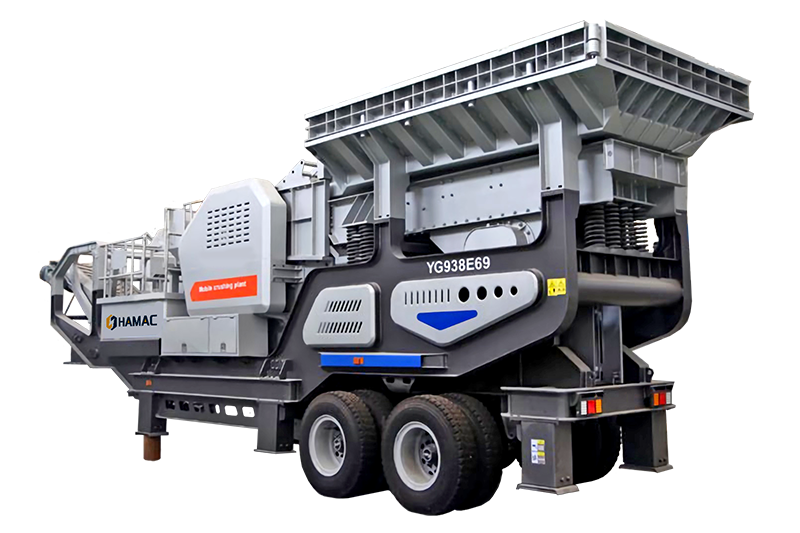 Mobile crushing plant is an efficiency and convenient ore crushing and screening equipment. It can be transported together with raw materials or construction sites conveniently. The mobile crusher plant can be combined in a variety of ways, and can also be configured in varieties of configurations according to the types of raw materials to be processed, the scale and the requirements of finished materials to meet the needs of different materials, so as to directly reach the particle size of the finished products. The mobile crushing and screening plant has the characteristics of reasonable matching of crushing equipment at all levels, smooth discharge of the whole line process, convenient operation, reliable operation, high efficiency and energy saving.


Excellent Performances of Mobile Crushing Plant for Sale
Flexible mobility, easy to move and operate. The mobile crusher plants are respectively installed on independent mobile chassis, with short wheelbase and small turning radius, and can be driven on ordinary roads and rough and harsh road environments in crushing sites.
Modular design. The mobile crusher plants adopt the concept of modularization of the whole vehicle, which solves the problem of difficult transportation and quick assembly and replacement of equipment in some areas. It can also save time for quickly entering the construction site, is more conducive to entering a reasonable construction area, and provides more flexible space and reasonable layout configuration for the entire crushing process.
Reduce shipping costs for materials. The installation of integrated unit equipment eliminates complex on-site infrastructure installation requirements, reducing material and man-hour consumption. The reasonable and compact space layout also improves the flexibility of the mobile crushing and screening plant.
Simple and flexible. The portable crushing plant can be used independently, and can also provide more flexible process configuration according to customer requirements, to meet the needs of users for mobile crushing, mobile screening, production organization, logistics and transportation, which are more direct and effective, and reduce costs. The diesel generator in the integrated unit configuration can not only supply power to the unit, but also configure unit joint power supply for the process system.
Smart and environmentally friendly. Intelligent design, dust removal, noise reduction, and emission reduction can realize the recycling of construction waste and turn waste into treasure. It can save energy for the country and conform to the environmental protection norms and concepts advocated by the state.
High degree of automation. The PLC control system has a high degree of automation and can monitor the operating status of the equipment. Equipped with a maintenance device, which can monitor and maintain the equipment in real time to ensure higher equipment safety.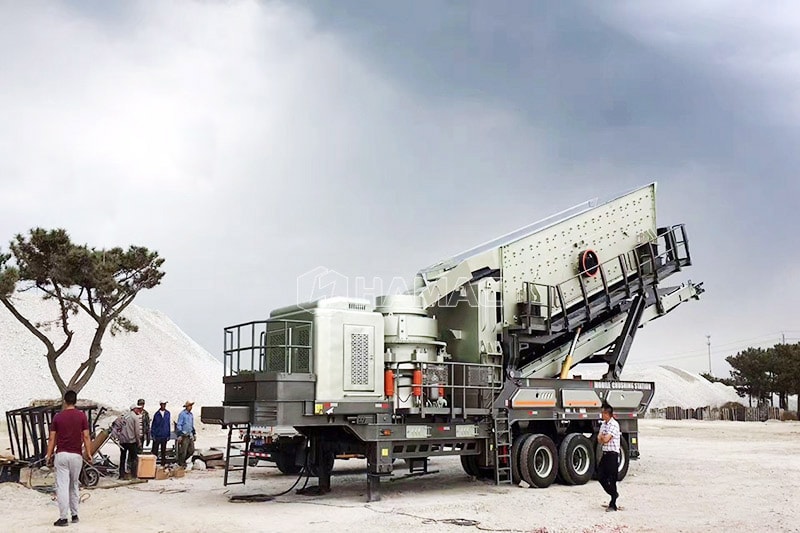 Technical Parameters of Mobile Crushing Plant for Sale
| Items | Stationary rock crushing plant | Mobile rock crushing plant |
| --- | --- | --- |
| Project duration | Long time, it will be installed in a quarry or mine, for long time work. | Suitable for short time projects, needs to be moved between different working sites frequently; |
| Time for installation and commissioning | longer time, because you need time for foundation, assembly. | Shorter time, no need to prepare foundation, and the crusher machine was tested well in the factory already |
| Capacity | 30-600m3/h, for stationary type, the capacity can be higher because it is installed on the foundation; | 30-150m3/h, because you want to move it by a tractor truck, so it can not be too big and heavy; |
| Full portability | It is fixed on the concrete foundation or steel structure foundation. It will take time and cost to move it between different working sites; | It is mounted onto a truck chassis, allowing for easy transportation. But you still need to disassemble some parts so that it can be moved on the road. |
| Price | If the capacity is the same, the stationary one will be cheaper. | If the capacity is the same, the mobile type will be more expensive. |
| Shipping | Can be put into the container, sea freight is lower | Delivered by RORO, flat rack or bulk vessel, it may take longer time to be shipped; |

How Does Mobile Crushing and Screening Plant Work
The main crushing equipment of mobile crushing plant can be equipped with jaw crusher, impact crusher, cone crusher. The material is evenly conveyed into the crusher through the feeder, and after being initially crushed by the crusher, a closed-circuit system is formed by a circular vibrating screen to realize the circular crushing of the material. The material that meets the particle size requirements is output by the conveyor, so as to achieve the production purpose. The mobile crushing equipment can also remove the circular vibrating screen according to the actual production needs, and directly carry out preliminary crushing of the materials. And then cooperate with other crushing equipment for specific operations, which is convenient and flexible.

Classifications of Mobile Crushing Plant

Combination of feeder and primary crushing equipment. The main crushing equipment that is often used is the jaw crusher suitable for processing large materials, which constitutes what we often call the mobile jaw crusher.

Combination of secondary crusher equipment and screening machines. It is used to process the materials processed by the primary crushing equipment. Commonly used secondary crushers include cone crushers and impact crushers. Generally, it is equipped with a screening machine and mounted on a mobile frame together to form a mobile cone crusher and a mobile impact crusher.

Combination of tertiary crusher equipment and screening machine. The three-stage crusher equipment is fine crushing equipment, commonly used are sand making machine, fine crusher and so on. Generally, it is equipped with a screening machine and installed together on a mobile frame to form a mobile sand producing machine and a mobile fine crusher.

Combination of feeder, main crusher and screen. This kind of equipment is often a piece of equipment that is a production line. The feeder, the main crusher, and the screening machine are installed together on a mobile frame to form a three-in-one equipment. The commonly used mobile hammer crusher is formed at one time.

Four-in-one portable crusher plant. This mobile crushing and screening plant is mainly suitable for small production lines, and is mainly equipped with a feeder, primary crushing equipment, secondary crushing equipment, and a screening machine. Four kinds of equipment are carried on one mobile rack at the same time.

Mobile screening machine. A mobile frame is equipped with a separate screening machine to form a mobile screening machine. This equipment is mainly suitable for large-scale production lines.

The complete set of mobile crushing and screening equipment includes primary crushing station, secondary crushing and screening station, belt conveyor and so on. The crushing stations at all levels are an independent working unit, which can fulfill their different responsibilities, and can complete the crushing and screening operations at one time.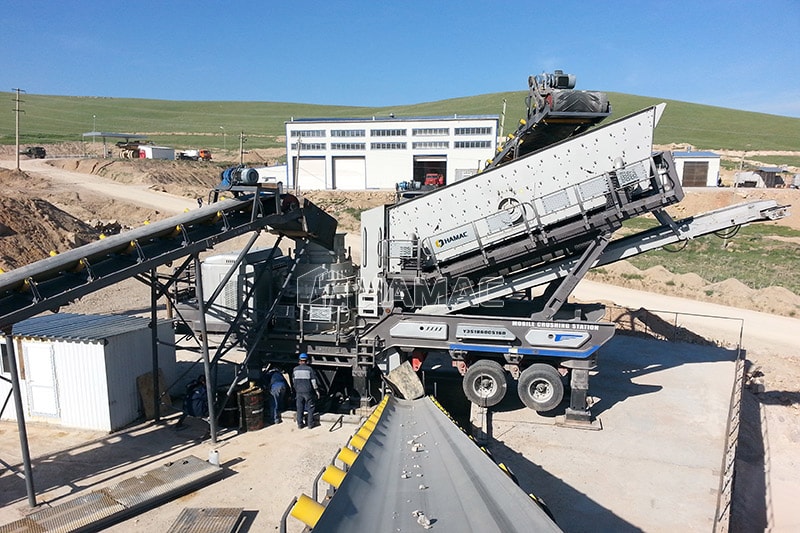 Application Fields of Portable Crusher Plant
Sand and gravel fields with complex terrain. Mobile crushing and screening plant can flexibly move and crush under complex terrain conditions. Therefore, it is more economical and convenient to choose a mobile crusher in a place rich in minerals but complex in terrain.
Construction waste recycling project. The production of recycled aggregate from construction waste is another major field of application for mobile crushers. With the advancement of technology, the recycling process of construction waste has been widely used. Construction waste can be converted into recycled sand aggregates for construction reuse by using mobile crusher plant.
Concrete Production Project. Concrete is the basic material of road construction and generally has high hardness and compressive strength. Mobile crushing and screening plant can generally complete concrete production, crush concrete pavement, reduce demolition, reconstruction, and transportation costs, and are a good choice for concrete pavement crushing.
Applicable materials. Hard rock crushing, aggregate production, in-pit crushing as well as mining, waste recycling, cement production and tunnel crushing.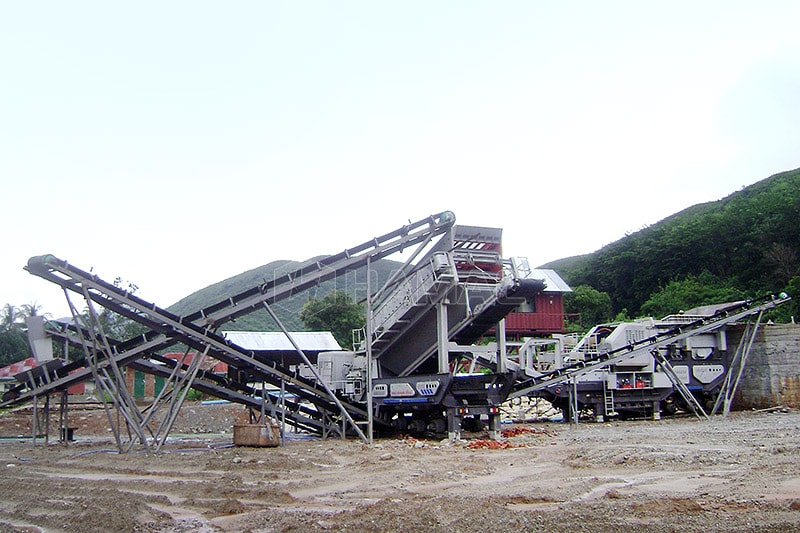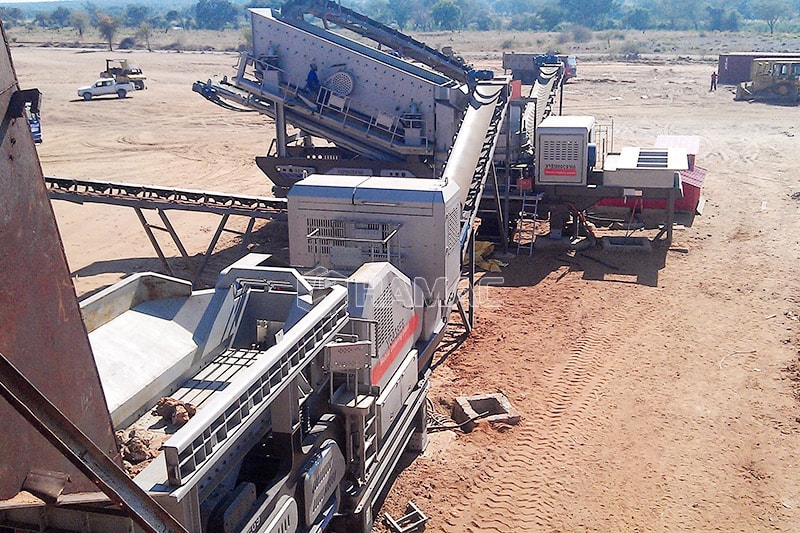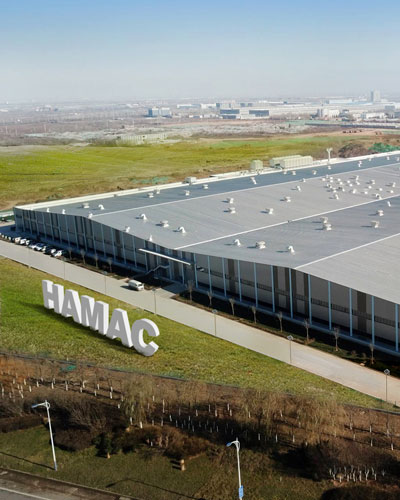 Please fill in the below information. Your information will be kept strictly confidential and will not be used for any purpose other than our business
TEL: 0086-15136236223
EMAIL: [email protected]
SKYPE: hamacchina
ADD: 57th, Kexue Avenue, National HI-TECHIndustrial Development Zone, Zhengzhou,China.