Crusher machine, also known as mine crusher, stone crusher machine, construction crusher, is a kind of equipment used in the processing of metal ore, non-metallic ore and construction projects. Our company has a very professional after-sales team. If there is a problem with any crusher machine for sale in our company, please feel free to contact us, our professional technicians will help you solve the problems.
Jaw crusher is a widely sued large-scale primary crusher machine. This kind of equipment is often used for primary crushing in mine material crushing, and are widely used in the crushing of various ores and bulk materials in mining smelting, building materials, roads, railways, water conservancy and chemical industries.
With the characteristics of advanced structural design, excellent crushing capacity, excellent reliability, low production and operation costs, single cylinder cone crusher is suitable for crushing all kinds of ores and rocks with medium and above medium hardness in metallurgy, construction, road construction, chemical and silicate industries. It can also be widely used in various industrial fields such as black, non-ferrous, non-metallic mines and sand and gravel materials.
Multi Cylinders Cone Crusher
Multi-cylinder cone crusher is suitable for crushing all kinds of ores and rocks with medium and above medium hardness, such as limestone, iron ore, pebbles, non-ferrous metal ores, granite, basalt, limestone, quartzite and sandstone. The equipment can be widely used in mining, metallurgy, construction, chemical industry, electric power, transportation and other industries.
Compound cone crusher is ideal equipment for hard rock quarries and the mining industry. It is suitable for crushing ores and rocks of various hardness and materials. According to the particle size of the crushed ore, it can be divided into coarse crushing, medium coarse crushing and fine crushing equipment.
With the characteristics of stable and reliable operation, convenient maintenance and high sand making rate, vertical shaft impact crusher is especially suitable for stone shaping and machine-made sand production. It can also be widely used in fine crushing operations in industries such as hydropower, highways, construction, cement, and metal mines.
Mobile crushing and screening machine is a kind of vehicle-mounted or crawler-mounted crushing station. It can be quickly assembled and moved between different construction sites. The combined crushing and screening equipment can be divided into fixed type, semi-mobile type and mobile type. This kind of equipment can be widely used in highways, railways, mineral processing, hydropower projects, building materials, municipal garbage and other fields.
Vibrating scree is a filtering mechanical separation equipment used for mud solid phase treatment. The device can choose a suitable model according to aggregates of different specifications, and is suitable for processing various ores and rocks with a moisture content of no more than 5%, large volume, and high bulk density.
FAQ - More About Crusher Machine
Crusher machine for sale can crush the mined raw ore, stone, construction rubbish into small pieces by extrusion and bending. Crusher machines are widely sued in mining, smelting, building materials, highways, railways, water conservancy, chemical industry and many other construction projects. Commonly used crusher machines include jaw crusher, impact crusher, hammer crusher, roll crusher, compound crusher, cone crusher machine, etc. Crusher machine is usually sued in combination with screening equipment. Our company can provide customer with different types of crushing and screening equipment.
When the crusher machine for sale of the same specification is matched with different raw material mills, the output varies greatly due to the different requirements on the particle size of the input mill.
The single-stage crushing machine is not a omnipotent and has certain conditions of use. The most important thing is that the abrasive test must be carried out. If the abrasiveness exceeds the limit, it should not be used.
Jaw crushers or gyratory crushers are generally used for crushing coarse ore.The selected equipment must meet the requirements of crushed product particle size and production capacity.
The crushing of medium crushing materials generally adopts standard cone crushers, and the crushing of fine crushing materials adopts short head cone crushers.
In the two-stage crushing, the second stage uses a medium-sized cone crusher.Jaw crushers or roll crushers are also used in small concentrators. Medium and fine crushing operations also use impact or hammer crushers.
Consider the production capacity of the crushermachine. The production capacity of the crusher machine is related to factors such as the nature of the ore (crushedness, specific gravity, joints, particle size composition, etc.), the type, specification, performance, and operating conditions (crushing ratio, load factor, and uniformity of ore feeding) of the crusher.
Choose a crusher machine manufacturer with strong production capacity and after-sales service. HAMAC will be your ideal choice. Inquiry us for the quotation and more details of various models of crusher machines for sale in our company now.
The shaft bears the full load of the machine, so good lubrication has a great relationship with the life of the bearing. Lubricating oil directly affects the service life and operating rate of the machine, so the injected lubricating oil must be clean and the seal must be good.
The newly installed tires are easy to loosen, so they must be checked frequently.
Pay attention to whether the work of each part of the machine can run normally.
Pay attention to check the wear degree of wearable parts, and replace worn parts at any time.
The bottom frame plane of the movable device should remove dust and other objects to prevent the movable bearing from moving on the bottom frame when the machine encounters unbreakable materials, resulting in serious accidents.
If the bearing oil temperature rises, stop the machine immediately and check the cause to eliminate the fault.
If the bearing oil temperature rises, stop the machine immediately and check the cause to eliminate fault.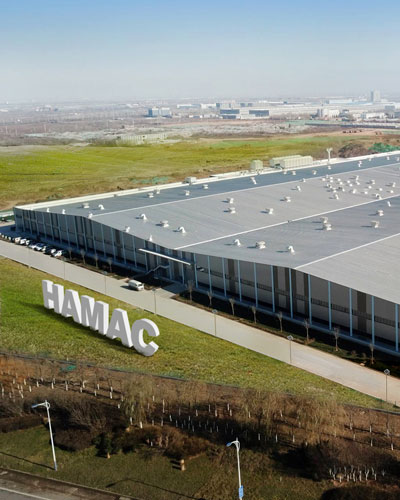 Please fill in the below information. Your information will be kept strictly confidential and will not be used for any purpose other than our business
TEL: 0086-15136236223
EMAIL: [email protected]
SKYPE: hamacchina
ADD: 57th, Kexue Avenue, National HI-TECHIndustrial Development Zone, Zhengzhou,China.