How many types concrete placing boom are there?
At present, there are many types of concrete placing boom on the market. Let's introduce the characteristics of the placing boom and its usefulness.
1. Manual placing boom machine, which is the most commonly used concrete placing machine at present. It is cheap, but the efficiency is very low. At least 4 workers are required to operate this machine, and the placing radius of the manual type is from 12 meters to 18 meters.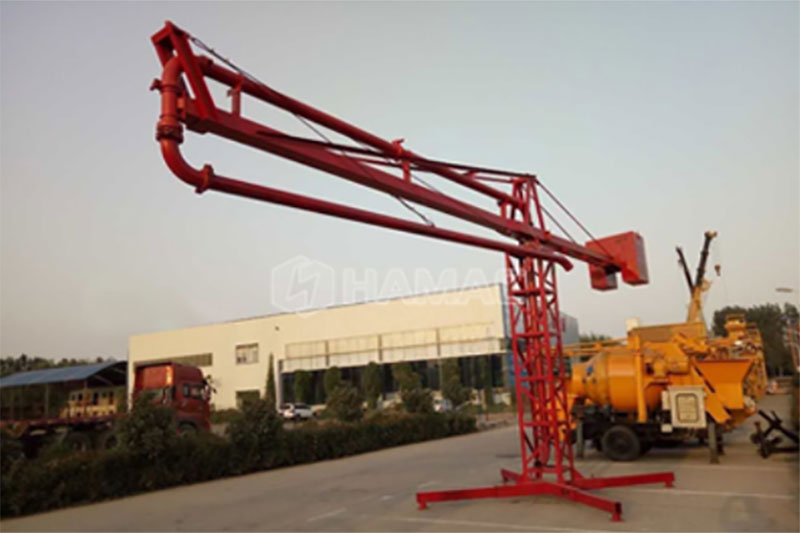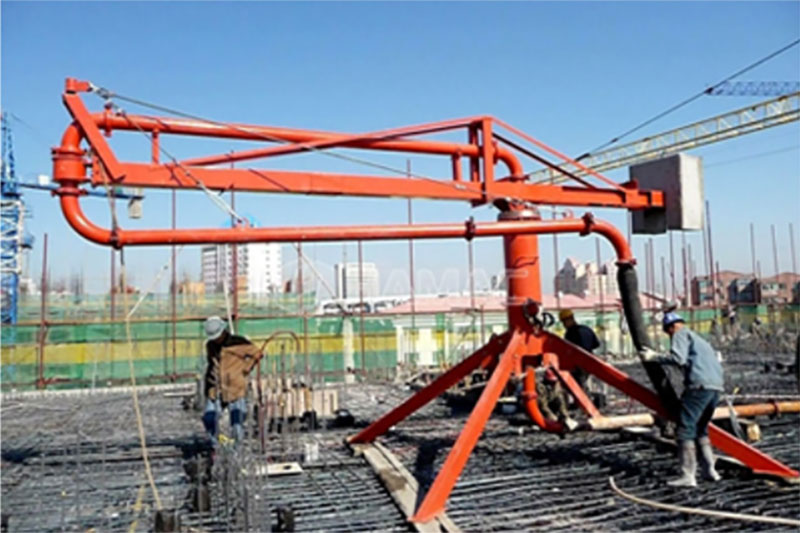 2. Spider type placing boom, it is also named mobile concrete placing boom, its placing radius from 13-21m. We have HGY13,HGY15, HGY17, HGY21. It is fully hydraulic driven, its working efficiency is higher compared with the manual type. It can be lifted bythe tower crane which is nearby the building. So, it can be moved in different positions on the floor.
Item
HGY13
HGY15
HGY17
HGY21
Max. Placing Radius (M)
13
15
17
21
Big Arm Length (M)
3.7
6
6.66
6.496
Big Arm Elevation (°)
-2~84.4
0~70
0~65
0~65
Medium Arm Length (M)
4.52
5
5.73
4.585
4.59
Medium Arm Elevation (°)
0~180
0~180
0~180
0~180
0~180
Small Arm Length (M)
4.78
4
4.61
5.029
Small Arm Elevation (°)
0~180
0~180
0~180
0~180
Hose Length (M)
3
3
3
3
Concrete Delivery Pipe (Mm)
Ø125×6
Ø125×6
Ø125×6
Ø125×6
Tail Rotary Radius (M)
2.72
2.81
3.51
3.51
Total Power (Kw)
4
4
5.5/7.5
11
System Pressure  (MPa)
24
24
24
24
Rotary Speed (R/Min)
0.3—0.8
0.3—0.8
0.3—0.8
0.3—0.8
Rotary Range (°)
0~360
0~360
0~360
0~360
Supporting Legs Span (M)
3.15×3.15
4×4
4.6×4.6
4.6×4.6
Overall Height (M)
2.9
2.6
3.2
3.2
Bare Machine Weight (Kg)
2700
3230
5000
10000
Balance Weight (Kg)
2×900
2×1100
2200
2×2500
Control Mode
Panel/ Wireless Remote Control
Panel/ Wireless Remote Control
Panel/ Wireless Remote Control
Panel/ Wireless Remote Control

3. Self-climbing concrete placing boom, its placing boom radius is bigger. Normally speaking, it is installed in the elevator shaft or in the building floors. It can rise by itself through the hydraulic climbing system. It is more suitable for the high building with big floor area.

Working principle of the concrete placing boom
Concrete placing boom is composed of supporting device, boom, pipeline installed on the boom, hydraulic drive device, rotating device, end hose and control system etc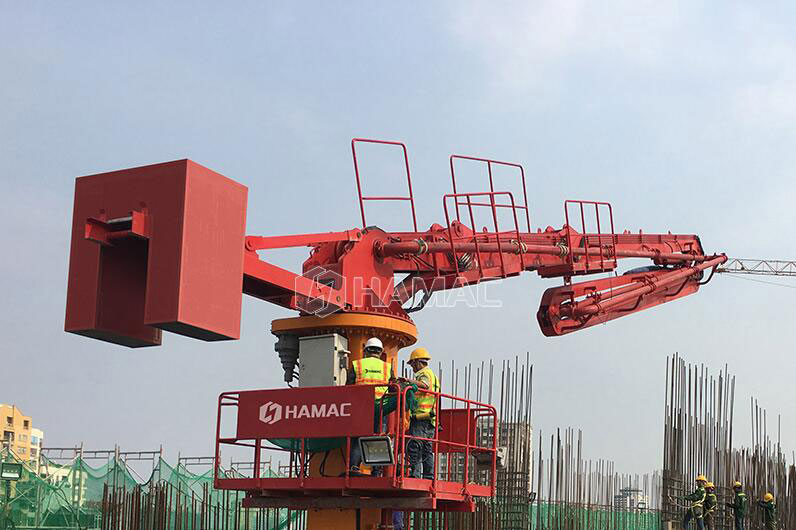 The front end of the feeding elbow pipe of the concrete placing boom is connected with the tail end of the concrete pump conveying pipe, and the conveying pipeline road of the integrity pumping project is formed. The concrete is pumped by the trailer concrete pump into the pipe of concrete placing boom, and then the concrete placing boom can rotate, fold and unfold, so the concrete is continuously transmitted to the construction site.
Please note: The concrete placing boom machine is only auxiliary equipment, and the output capacity and pumping pressure are not related to this equipment.

Advantages of Concrete Placing Boom
1. Greatly reduce labor intensity, improve work efficiency, and improve economic benefits; due to the large distribution range and flexible and convenient operation, there is no need for workers to constantly transport concrete back and forth or frequently dismantle and connect pump pipes like other pouring methods. While reducing labor intensity and reducing workers, the pouring speed is greatly accelerated, the construction period is shortened, and the economic benefit is improved.
2. Improve the quality of concrete construction: In the process of large-scale concrete pouring, it often takes a certain amount of time to transport concrete through the hopper, and the concrete is easy to lose water, which affects the quality. However, due to the frequent back-and-forth shipment and pouring of concrete, the labor intensity of the workers is high, resulting in labor-intensive labor, and the workers are prone to do not pour according to the construction process at convenience, and artificially cause construction cold joints. The concrete placing boom machine can solve this problem very well, the second layer of concrete can be poured before the initial setting of the newly poured concrete, and it can be formed at one time as much as possible to avoid the construction of cold joints.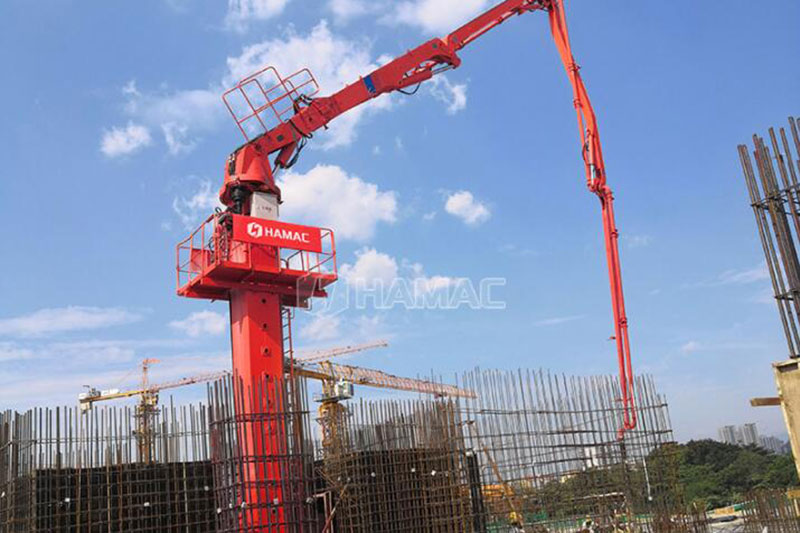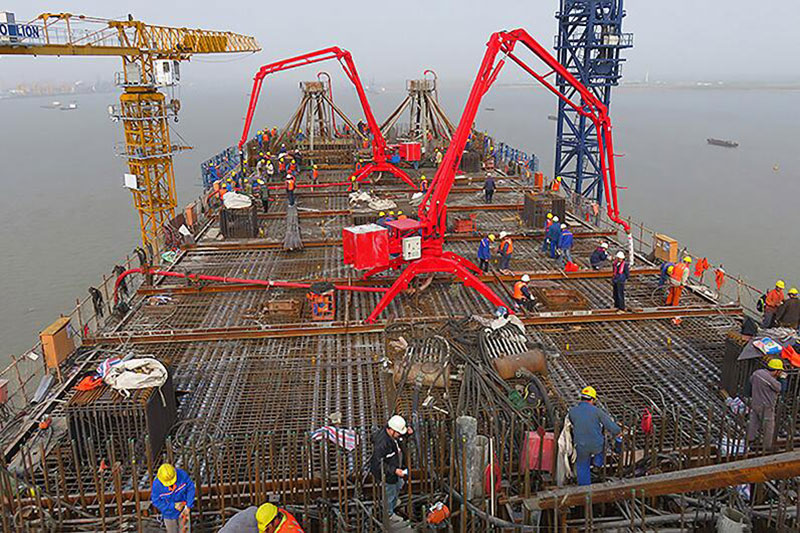 3. Flexibility of the concrete placing boom: After using the placing boom, it does not contact the formwork and does not vibrate the formwork, which can avoid damage to the structure. The placing boom machine can flexibly pour concrete inl layers and sections, so that the formwork is evenly stressed, avoids the occurrence of burst form, and is conducive to ensuring the correct geometric dimensions of the structure.
4. After using the placing machine, there is no need to connect and remove the pump pipe on the platform, which reduces the number of operators on the platform, and does not require other messy concrete pouring equipment, which reduces the damage to the slab.


The factors need to be considered for selecting a concrete placing boom
There are several more related factors to be considered for selecting the suitable placing boom as below:
1. The length and width of the working project; then you can see how many meters placing radius you need.
2. Your budget and efficiency you need; then we can see which type you select, manual one or hydraulic one.
3. Height of the building, for the high building, its length and width is also big, the self-climbing concrete placing boom with 24-36 m placing radius is recommended.
4. If there is a tower crane near the building? If yes, one spider type concrete placing boom can be considered because it can be lifted and moved by the tower crane.

What is the price of concrete placing boom?
The price of the concrete placing boom for sale is related to the model and configuration specifications, such as: the coverage area (placing radius) and configuration. At present, there are three types of distribution machines in the market: manual type placing boom, mobile spider concrete placing boom, and self-climbing placing boom. The use method and effect of a placing boom machine are also different, so the price is also different.
1. The manual type concrete placing pipe is the cheapest one. It has a simple structure and low cost. The time of delivery is about 3 days. It is fully manual operation, so the cost is low and the price is relatively cheap. The models are 12 meters, 15 meters, and 18 meters. Three specifications, prices ranging from 2000-3000USD.
2. The hydraulic placing boom machine is also an intelligent placing boom machine, and it is also a one-time pouring and molding equipment for concrete on the market. It is also a time-saving, labor-saving and high-efficiency equipment for concrete pouring. One person can perform concrete pouring, which is more than three times the efficiency of traditional concrete pouring. The model is also a relatively comprehensive placing machine, from 13 meters to 36 meters (placing radius), because the price of full hydraulic intelligent operation is relatively high, the price is more than USD20000, and the detailed price needs to be confirmed with manufacturer's sales manager.

Concrete placing boom manufacturers in China
There are several professional concrete placing boom manufacturers in China. As one of them, HAMAC is a manufacturing enterprise specializing in the production of concrete placing boom machines, our placing boom machines have passed the EU CE certification and are exported to developed countries such as Europe and the United States. Our products cover the placing range of 13-36 meters, and are the ideal supplier for your purchase of concrete placing booms.
There is no lowest price, only lower price. You get what you pay for. We hope you are looking for the perfect working performance of the equipment, not the low-priced inferior goods. HAMAC only provide our clients with high quality machines. Wish a cooperation with you in the future.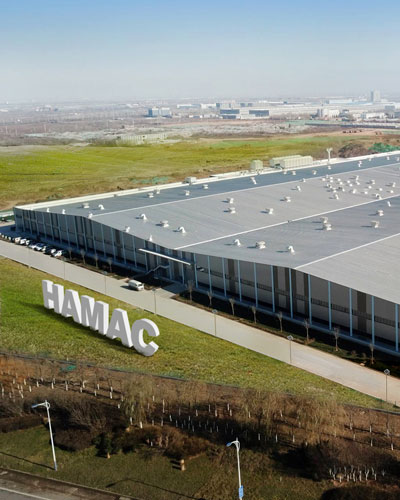 Please fill in the below information. Your information will be kept strictly confidential and will not be used for any purpose other than our business
TEL: 0086-15136236223
EMAIL: [email protected]
SKYPE: hamacchina
ADD: 57th, Kexue Avenue, National HI-TECHIndustrial Development Zone, Zhengzhou,China.